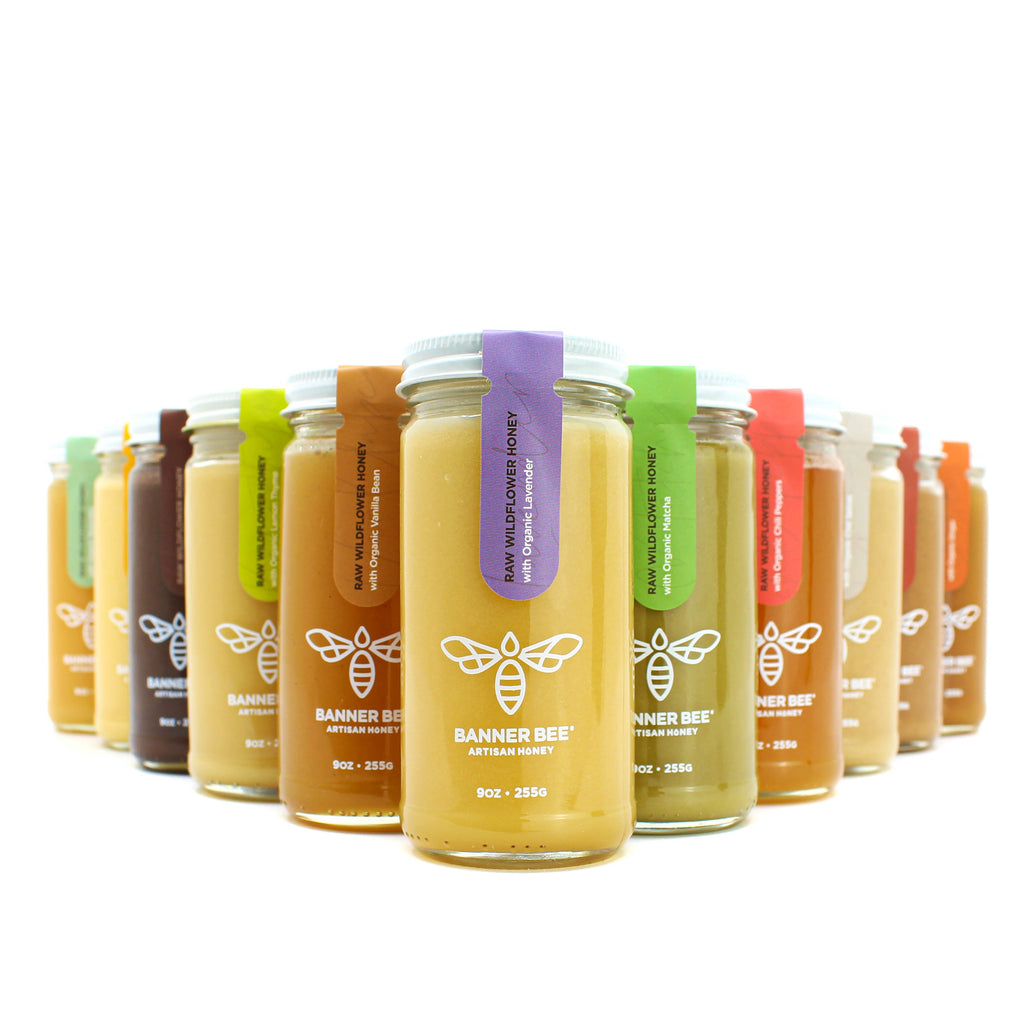 Monthly Honey Club 1 Year Plan
$297.00
Description

Give or receive 12 monthly shipments of your favorite artisanal honeys from BannerBee!  You specify the month in which you would like to receive your first shipment in the box below and leave the rest to us! Your pantry will be stocked with sweetness!

Each beautifully presented in an 9oz glass jar.  Your first shipment will include a wooden honey dipper for you to use with all of your tasty treats that you will receive from us throughout the year!  One of our favorite recipes will also be included with your gourmet jar of honey each month - we LOVE to share our delicious ideas!

Monthly selections can be found HERE.

Gift? No problem! We will send off a personalized gift card which explains the Honey-of-the-Month Club, what they can expect and when.  Include your personalized note in checkout!

Shipping charge will be for ALL TWELVE shipments of your subscription.

Details

The artisanal honeys that you can expect:

January: Cacao Enriched Honey.

We are going to start your year off right...by sharing our favorite flavored honey! Enjoy our rich, dark chocolate honey warmed on ice cream, berries, pancakes or waffles - this also makes a FABULOUS hot chocolate! No dairy.

February: Cinnamon Enriched Honey.

Raw wildflower creamed honey blended with the sweet-hot flavor of premium ground Ceylon cinnamon! Enjoy by the spoonful, swirled in Greek strained yogurt, spread on toast, in a cup of hot tea or hot chocolate, on biscuits, or as a pancake or waffle topper. Heart healthy, anti-inflammatory properties.

March: Matcha Enriched Honey.

Raw wildflower creamed honey enriched with organic ceremonial grade matcha. Enjoy by the spoonful, as the main ingredient in your Green Tea Latté, swirled in Greek strained yogurt, drizzled on crepes or vanilla bean gelato. Extremely high in antioxidants (17 times that of regular green tea) including the powerful EGCg, boosts metabolism, adaptogenic properties - calms the mind & relaxes the body, detoxifies effectively and naturally, rich in fiber, chlorophyll and vitamins, enhances mood and aids in concentration.

April: Cherry Blossom Infused Honey.

Raw wildflower creamed honey gently infused with the delicious flavors of cherries from the orchard. Handcrafted lovingly in small batches and only while supplies last! Use this delicate infusion to drizzle on Greek yogurt, scones or crepes. Exquisite swirled in your cup of white tea.

May: Lemon Thyme Honey.

Raw wildflower honey gently infused with locally sourced organic lemon thyme. Handcrafted lovingly in small batches. Use for glazing poultry, as a simple syrup base for your cocktails, drizzled on greek yogurt or in your warm green tea. Excellent for soothing a sore throat.

June: Lavender Infused Honey.

Our delicate tasting wildflower honey infused with premium culinary lavender flowers rendering a smooth, light taste to compliment your scones and muffins, cheese platter, drizzled on berries or swirled in your cup of warm green tea.

July: Specialty Reserve Bourbon Infused Honey.

Woodford Reserve bourbon infused wildflower honey. Exquisite ingredients yield exquisite results...and this smooth, richly flavored drizzle is no exception! We infuse our local wildflower honey at a very low heat, over several hours, with our favorite Kentucky bourbon! This careful process evaporates off the alcohol while imparting a rich bourbon flavor into the honey. Time and patience ensures the integrity of the honey.

Drizzle on vanilla bean gelato with fresh berries, pancakes or biscuits, fried chicken OR as a glaze for grilled chicken, stuffed pork chops, or roasted turkey and vegetables.

August: Raw Wildflower Honey.

Enjoy our raw wildflower honey from the early season blooms of berry, apple, locust blossom and tulip poplar. Lovely paired with earthy goat cheese, ripened fruit and nuts.

September: Organic Vanilla Bean Honey.

A special treat for you to enjoy in your cup of tea, on vanilla ice cream, biscuits or berries! Our wildflower honey is infused for at least 2 months with a Madagascar Bourbon vanilla bean which is included in the jar! This honey has been featured in popular national magazines and is our most popular!

October: Chai Blended Honey.

Heavenly in your morning tea, spread on scones or as a roast turkey or ham glaze - you will enjoy our wildflower creamed honey with our favorite blend of premium spices. Delightful!

November: Ginger Blended Honey.

Our wildflower creamed honey blended with ground ginger root will add a distinct flavor to your cup of green tea, fantastic in salad dressings and as a glaze for salmon, poultry or ham. A lemon Ginger Honey tonic is perfect for cold + flu season.

December: Turmeric Enriched Honey.

Raw wildflower creamed honey enriched with premium organic ground turmeric and a sprinkle of black pepper to help with absorption of curcumin, the active ingredient in turmeric. Enjoy by the spoonful, as the main ingredient in your Golden Latte or Golden Milk, swirled in Greek strained yogurt. Anti-inflammatory, expedites healing of wounds, alleviates pain, protects digestive tract, antibiotic properties.

Please Note:
1. BannerBee Company LLC has the right to substitute any honey listed above with another flavor as necessary.
2. We do not allow customer substitutions.
3. We apologize but, this item is not available for shipment outside the Continental US.